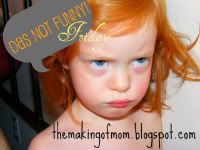 So- yes, it is Saturday but I have some funny moments from this week to share. Here it goes:
_____________________
Sonia- "I put dis in your pocket."
Mom- "What is it?"
Sonia- "My banana."
Mom- "Okay, I would love to have a banana in my pocket."
5 mins Later:
Sonia: "Mom I'm hundry."
Mom: "Here, have the banana in my back pocket."
______________________
Amanda and Nick were over Sunday night and Sonia and Nick were throwing ball in the house, why? I have no idea. Nick threw the ball at Sonia and she yells, "MICK BOWDERS!"
Yeah Sonia, he is part of the family, but his name is Nick Land. haha
______________________
My dad recently got home from a mission trip to Guinea Bissau, ever since he returned Sonia has been loving on him immensely.
Every five minutes: "Dad I love you." Followed by a kiss.
Today she was talking to dad in the kitchen and she again says, "I love you dad."
"Yes Sonia, I know you love me." Then he said to my mom, "Man, she is like a middle school girl with a boyfriend. They don't know what love really is, but they say it anyway."
Too funny.
_______________________
Anyway- That's all for this week. I hope it made you laugh. Have a good weekend- Bailey